Home » Screen
What Day Is Best For Television?
Share
I'm not afraid to say that I'm pretty addicted to television programming. When I was younger there was nothing you could do to take me away from watching Pokemon after school, TGIF on Friday nights, and most importantly the Saturday morning cartoons (Waking up at 8 AM on Saturdays was so easy back then)
So I was watching a few of my favorite shows and I was wondering which day had the best television on. Which also meant, which day did most people had to sacrifice watching one show and catching the other show at a later time (Thank you DVR!) Let's take a quick look.
So there is no way possible for me to know what shows are on or what everyone else watches. But with the use of Twitter and my friends I made up a nice little guide of shows that correlate to the days. For this little experiment we are excluding reality tv, sports, or anything else that falls into that category. It's more about prime time programming. Take a look:
Sunday: Family Guy, American Dad, Cleveland Show, Curb Your Enthusiasm, Entourage, Desperate Housewives, Simpsons, Mad Men, Brothers & Sisters, Dexter, Weeds
Monday: Heroes, House, , Gossip Girl, One Tree Hill, WWE Monday Night Raw, Lie To Me
Tuesday: NICS, The Forgotten, Law & Order:CI
Wednesday: Nip/Tuck, Modern Family, Glee, South Park, Law & Order: SVU, CSI, Criminal Minds
Thursday: The Office, Community, 30 Rock, Grey's Anantomy, Private Practice, Bones
Friday:Number3s, Ugly Betty, Brothers, Smallville, Law & Order
Saturday: SNL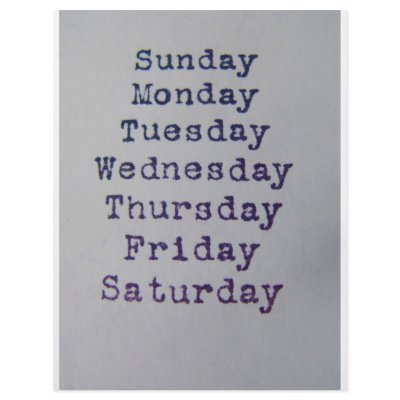 Now I know the list is biased because it may or may not have your shows on here. But work with me. If you think I'm missing a television show that is key to this article then hit up the comments. What day, in your opinion, is best for television? I'll leave you with a video clip from Curb Your Enthusiasm.